Snow Foam OG+ Lance Ultimate Care Kit
Regular price

$357.40

Sale price

$284.95
Christmas Delivery Cut Off Date: Dec 17
Description

The Ultimate Care Kit for pressure washers and weekend warriors. Prepare your garage with an all-in-one bundle with every chemical and tool for every occasion.

We are proud to finally make available all our best products into one simple package for all your washing, detailing, and maintenance needs. Specially selected chemical products and tools are provided to ensure you are well-equipped at every opportunity. 

The Snow Foam Ultimate Care Kit allows you to:

1. Snow Foam Prewash

 

(

 Lance

, Snow Foam Detergent, Orange)

2. Rinse

3. Wash

 

( Snow Foam Detergent, Snow Cloud,  Wheel Cleaner, Wheel Brush, Clear, Interior Cleaner),

4. Rinse

6. Protect

 

(Shield Spray, Spray Wax, Tyre Shine)

Save over 10% when you buy together instead of individually!

Package includes:

1x Snow Foam OG+ Lance
1x 1L Snow Foam Detergent (upgrade up to 10L variants) 
or 1L Snow Foam Berry Thick Detergent
1x Snow Foam Twister Towel
1x Snow Foam Snow Cloud Wash Mitt
1x Clear - Window Cleaner
1x Interior Cleaner
1x Signature Spray Wax
1x Shield Spray
1x Orange - Heavy Duty Degreaser
1x Wheel Bristle Brush
1x Wheel Cleaner
1x Tyre Shine

Learn how to use the Ultimate Care Kit:
Features

Exterior Wash: Snow Foam OG+, Snow Foam Detergent, Snow Cloud Wash Mitt, Orange Degreaser and Clear Window Cleaner

Wheels: Red Bristle Brush, Wheel Cleaner, Tyre Shine & Orange


Exterior Protection: Snow Foam Shield & Snow Foam Spray Wax

Interior: Interior Cleaner & Clear Window Cleaner
What's In The Box?

Snow Foam OG+ Lance Includes:

Snow Foam Lance head
Pressure washer adaptor of your choice + male to male adaptor
Suction tube
Installed 1.11mm (1200-1600psi) and included 1.25mm inlet (1600-5000psi)
Electroplated brass head
1L PET clear bottle
Weighted pick-up tube

2 Year Warranty
Adaptor Guide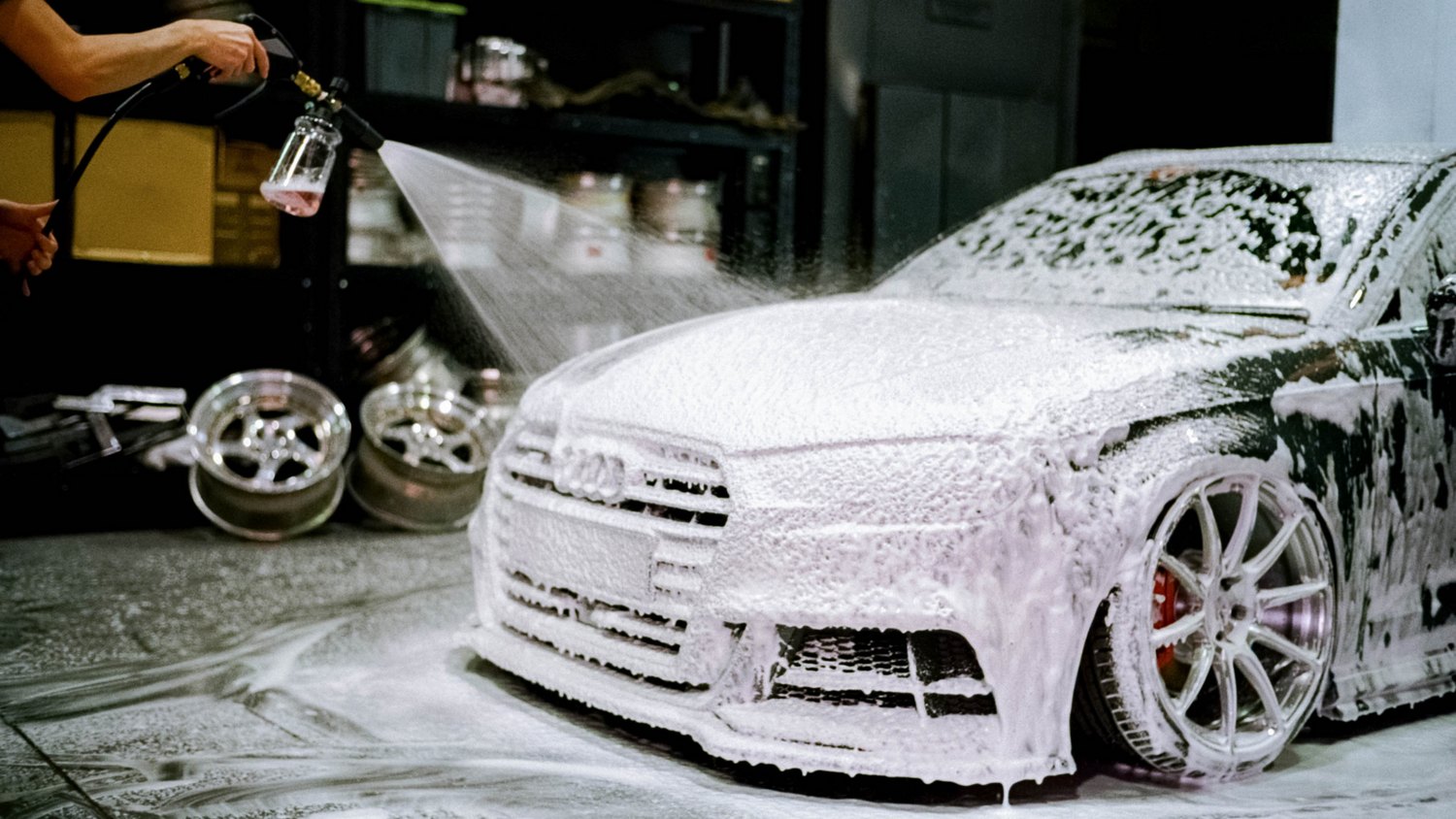 OG+ Difference :
Superior Foam With Berry Thick
Luxuriously thick foam lathers the car to remove as much dirt and grime as possible, ensuring more dirt on the floor and less between your paint and wash mitt. That's safer cleaning.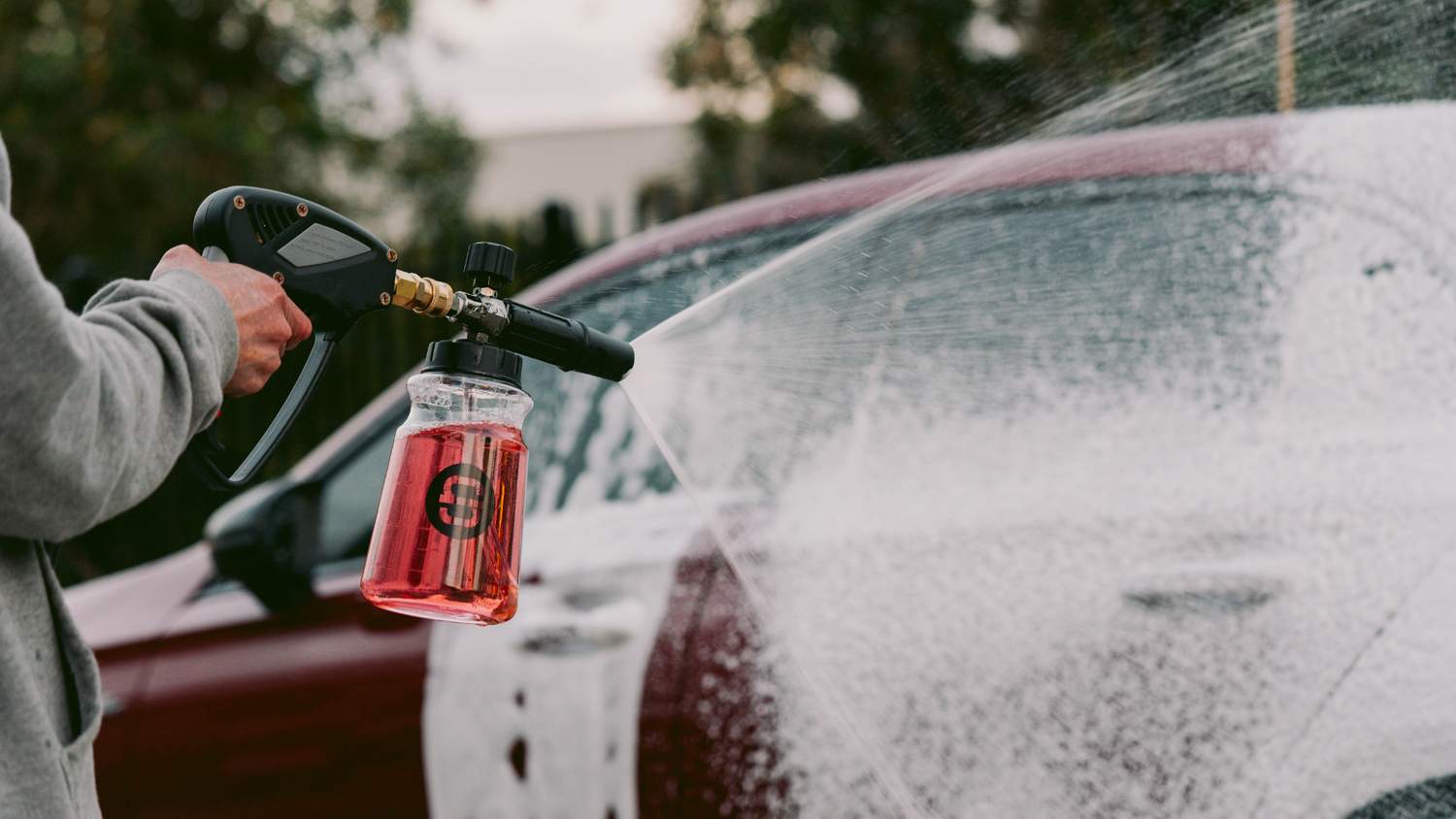 Pairs Perfectly With The Short Trigger Gun
Like two peas in a pod, the Snow Foam Lance and the Short Trigger Gun were made for each other. Quick release from foaming to high pressure washing in seconds.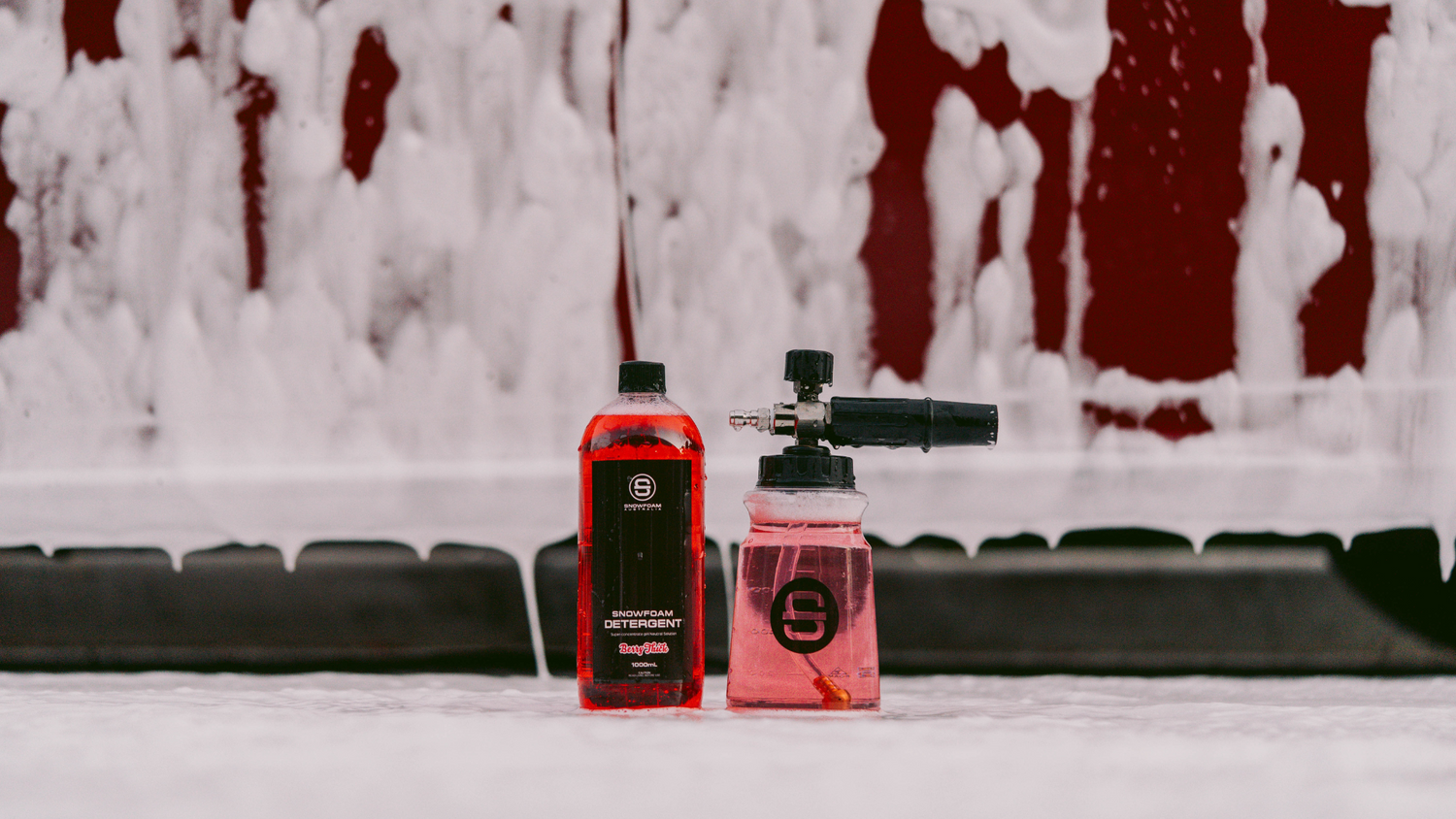 Wide Mouth, Clear Bottle
It was the small things we needed to take care of. You mentioned the Snow Foam Lance V1 was tipping over too often, so we moulded a heavy duty clear PET bottle with a wider mouth to lessen the mess when pouring in Snow Foam Detergent.
FAQs
Will It Fit My Pressure Washer?

Find your pressure washer in our Ultimate Lance Adaptor Guide to select the right adaptor for your model.


If you can't find it, simply contact us here.

When pairing your OG+ Lance to a Short Trigger Gun, it will be packaged with a 1/4 inch quick connect adaptor for fitment.
Do I Still Scrub The Car?

The Snow Foam system of washing focuses on swirl-avoidance over contac-avoidance. We still scrub the car to dislodge stubborn dirt that the touchless pre-wash isn't able to remove. We do so with more confidence knowing a wash mitt isn't directly trying to forcefully wipe multiple layers of dirt like that of conventional washing methods.
How Do I Set Up The OG+ Lance?

Simply use the PTFE tape provided and wrap the thread around the male-to-male adaptor 5 times around.

Then screw your adaptor provided onto this male-to-male adaptor then into the Snow Foam Lance.

Plug the tube into the Lance head and fill it with detergent and water.

Adjust the top dial toward negative (-) for thicker foam.

Attaching To Your Short Trigger Gun

Once your 1/4 inch adaptor is connected to your OG+ Lance, pull back the quick connect fitting (gold) on your Short Trigger Gun and insert the OG+ Lance.
How Long Do I Leave Snow Foam On For?

Leave Snow Foam on for at least 5 minutes avoiding any sunlight if possible. You can leave it on for up to 10 minutes, ensuring no foam dries on your paint's surface.
Is There Warranty?

Shop with confidence knowing we have you fully supported with 2 years warrant on the Snow Foam Lance. We are experts in pressure washer and cleaning parts and understand things leak and break. Send us a message and we will sort your issue and replace or fix where needed for two years from purchase.
The OG+ Difference

We've undergone countless iterations during the research and development process of the new Snow Foam Lance. Our goal for the OG+ Snow Foam Lance was to provide a quality product that is durable, effective and maintains the highest standard of quality that our all Snow Foam Australia customers have come to expect. 

Working directly with our extensive detailer network and direct customer feedback, our new Snow Foam OG+ Lance features design upgrades that directly improve the usability, ergonomics as well as overall effectiveness of our Lance. 

There are some key upgrades that are seen with the OG+ Lance over our Standard OG Lance. The OG+ bottle features a wide mouth bottleneck for easy filling, an ergonomic grip and wider base to easily stand upright when not in use, a clear bottle to make measuring easy and precise as well as a durable PVC to PET matched threading for increased durability and longevity. The OG+ Lance head features an electroplated brass build for rust and oxidation resistance, a weighted high-grade pick-up tube, a single head nozzle for greater pressure throughout and a visually appealing black coloured head and adjustment nozzle.
Experience OG+ Lance & Berry Thick