Which Foamer Is Best For You?
Garden Hose Powered Foaming
Perfect for ultra-fast setup and clean up. The Snow Foam Gun connects directly to your garden hose meaning no pressure washer nor power required. Although it sprays a wet foam, we still foam, rinse, foam and scrub to get a thorough wash.
Shop Snow Foam Guns
Key Points
Garden Hose Powered

Hooks straight to your regular garden hose setup so there's no need to pull out pressure washers or untangle extension cords.

Fast Setup & Pack Away

Quick release the Gun's body from the trigger and store away. The trigger gun will work as a standard garden hose trigger.

Jet, Foam Rinse & Adjust Foaming Ratio

Set the dial from smallest to largest orifice through to allow more or less detergent through the Snow Foam Gun.

You can Snow Foam, Jet Spray & Rinse with the one Snow Foam Gun

Wet Foam Output

Due to the lack of pressure that a garden hose provides, the foam will be a wet foam and will sit on the paintwork for less time compared to a Snow Foam Lance or E-Foamer.
Is The Gun For Me?
Foaming Output - Wet Foam

Garden hoses usually provide around 50psi of water pressure. This means the consistency of the foam from a Snow Foam Gun will be more watery than that of a Snow Foam Lance or E-Foamer. For comparison, a pressure washer would have 2000psi - 5000psi.
Car Coverage Time - Fast

The wide fan spray means you can cover your entire car in less than a minute.
Spray Fan - Static but Rotatable

The Snow Foam Gun only sprays foam on one spray width setting and cannot be adjusted. The end nozzle can be pulled off to provide a soapy solution to be sprayed in a jet spray form.
Bottle Capacity - 900mL

For a Snow Foam Gun, the bottle capacity is 900mL. We recommend still using 100mL of Snow Foam Detergent with 800mL of water. Works best with Berry Thick!
Warranty - 2 Years

Free returns in 30 days and for the span of 2 years from purchase we'll help ensure you have a good, working Snow Foam Gun for next weekend's wash.
Our Thoughts - Very Easy To Use, Setup & Make Great Gifts

Perfect for quicker washes when we're limited for time. The Snow Foam Gun is one of the most handy applicators in our garage as we don't need to set anything up. We turn the tap on and foam away. Also makes for perfect gifts if we're unsure if our family or friends use a pressure washer.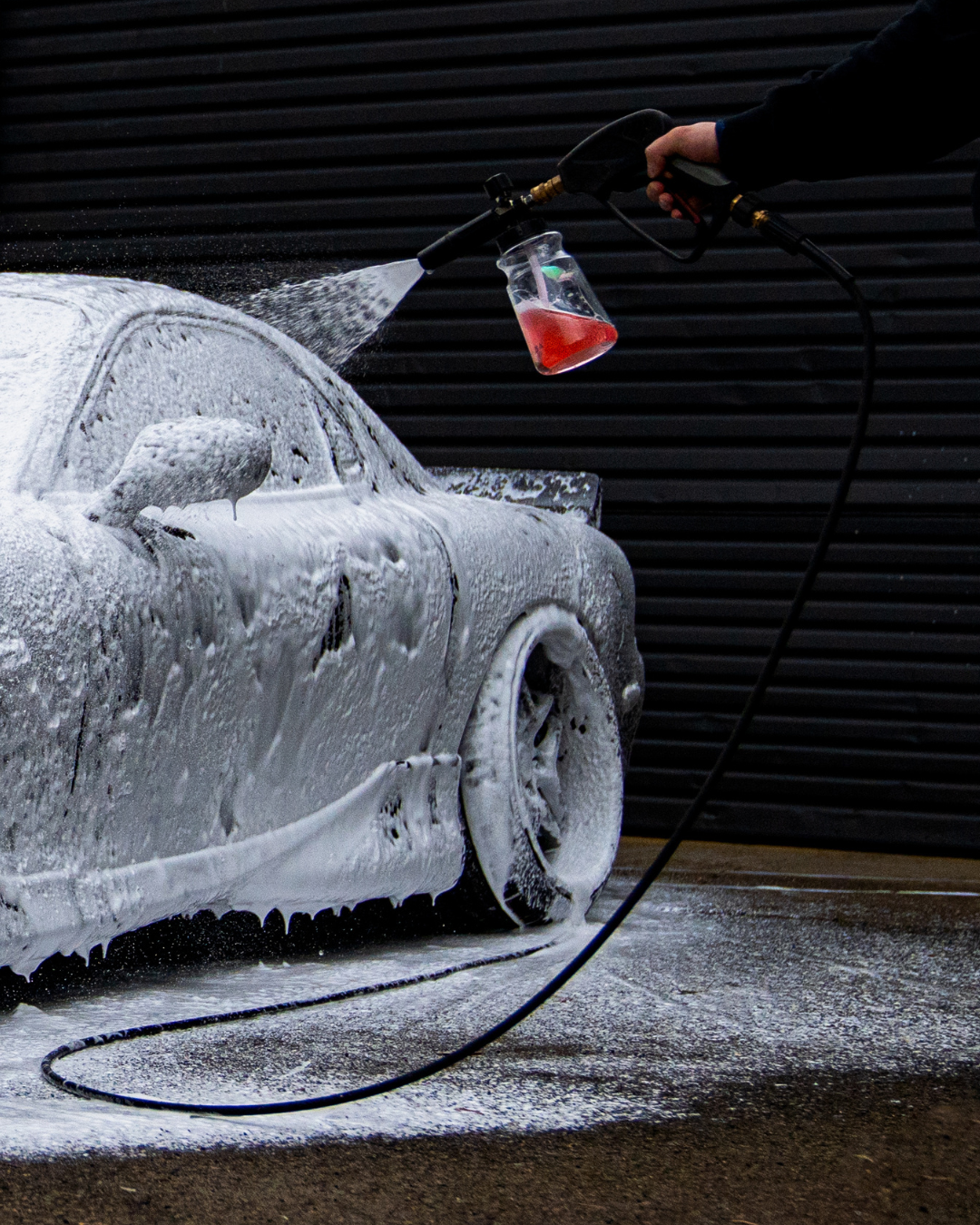 Snow Foam Lance
A pressure washer's best friend. The Snow Foam Lance provides the much desired thick foam, adjustable foaming solution ratio and adjustable spray fan width. A Snow Foam Lance in combinition with a high pressure rinse, makes for a killer combo against dirt and grime.
Shop Snow Foam Lances
Key Points
Pressure Washer Powered

Compatible with most pressure washers available on the market. The Snow Foam Lance's adaptor can be swapped if you upgrade to a different brand in the future.

Easy Set Up

Simply attach your adaptor of choice onto your Snow Foam Lance head with PTFE tape and plug it into your existing pressure washer trigger.

Adjustable Foaming Ratio

Adjust the top dial toward (+) for more water or (-) for less water. This will determine how much detergent the lance picks up.

Thick Foam Output

A mousse-like consistency is possible with the right pressure washer and Snow Foam Detergent mixture. Users will love the thick and fast application.
Is The Lance For Me?
Foaming Output - Thick

When you team up the Snow Foam Lance or OG+ Lance with a pressure washer at ~8L p/min and ~2000psi or more, you can achieve a mousse-like consistency. Ensure you use the right orifice size (1.1mm for <2500psi pressure washers or 1.25mm for >2500psi pressure washers) and a quality detergent like Snow Foam Berry Thick.
Car Coverage Time - Fast

Covering your car in thick foam is no issue for the Snow Foam Lance. The wide spray fan can cover your entire car in under 2 minutes. It is slightly slower than the Snow Foam Gun as usually domestic pressure washers will have to be moved with you to walk around the car. Speed things up with an extension hose, we recommend 8 - 10m if not more.
Spray Fan - Adjustable

By rotating the end nozzle either clockwise or anti-clockwise, you will open up the spray pattern. You can go as wide as the entire car's height or down to a stronger jet spray to target certain areas like wheels and wheel arches.
Bottle Capacity - 1L

We suggest 100mL of Snow Foam Detergent with 900mL of water. Without overlapping panels, you should be able to do an initial layer and a second layer for contact washing with the one mixture.
Warranty - 2 Years

We cover any issues you may have for up to two years. We back the quality of our Snow Foam Lances and can service them instore in Sydney.
Our Thoughts - For a thorough wash, we never avoid the lance regardless of the setup time.

Usually our go-to device for our full wash process. We do need to setup and pack away the pressure washers, which can be slightly tedious although extremely worth it by the end of the wash. The pressure washer provides a better wash and less contact on the paint, which is always a beneficial factor against the Snow Foam Gun.
E-FOAMER
A never-before-seen electric powered foamer for the ultimate foaming experience without the need for power or a tap nearby. Perfect for users in apartments or mobile detailers.
Shop E-Foamer
Key Points
Battery Powered Foaming

Charge it, Fill It, Foam it. When you can't access power or water, the EFOAMER is your perfect solution.

Push To Start

Simply fill your E-Foamer with your favourite Snow Foam Detergent or cleaners, diluted or neat, and press to instantly foam or mist.

Non-Adjustable Foaming

The EFOAMER does not have an adjustable foaming thickness setting but has both foaming and misting options using the two included nozzles.

Thick But Slower Application

The EFOAMER is a portable foamer but doesn't output foam as fast as the Gun or Lance. Slower passes may be needed for thicker foaming consistency.
Is the E-FOAMER for me?
Foaming Output - Thick

The use of air compression with Snow Foam provides a thick foaming consistency when passed over a panel slowly. If you pass over a car swiftly, the foaming thickness will be reduced.
Car Coverage Time - Moderate

The EFOAMER will need slower passes on each panel to provide a thick foaming consistency, so covering a car in thick foam will take longer than using a garden hose or pressure washer. The E-Foamer V2 does bring increased speed of coverage.
Spray Fan - Static

There is only one spray fan width with the E-FOAMER's foaming and misting spray nozzles.
Bottle Capacity - 2L

The 2L tank allows for a sufficient amount of detergent solution in the bottle to last foaming a medium sized car.
Warranty - 1 Year

E-FOAMERS hold 1 year warranty and covers nozzles, gaskets and batteries when used correctly. Refer to instruction manual for full usage instructions.
Our Thoughts - Great for apartment living, Motorbikes and Wheels.

The E-FOAMER is new technology in car care and provides huge innovation for Australian's in apartments or mobile detailers. When we don't want to setup any pressure washers or garden hoses, we go to the EFOAMER. We can use it with Berry Thick and Wheel Cleaners and makes smaller jobs much more enjoyable.
Quick view

E-FOAMER

Regular price

$0.00

Sale price

$149.95
Quick view

Snow Foam Gun V2

Regular price

From $84.95

Regular price

$114.90

Sale price

From $84.95
Quick view

Snow Foam OG+ Lance

Regular price

Sale price

$104.95
Snow Foam Gun V2
Shop Snow Foam Applicators