Snow Foam Lance Ceramic Care Package
A Ceramic Coating's Best Friend
Regular price

$262.65

Sale price

$167.96
Christmas Delivery Cut Off Date: Dec 17
Description

You have your paint ceramic coated, but do you have the tools to maintain it?


We've selected our best products into a ceramic-focused package to help you maintain and extend the effectiveness of your new ceramic coat. You have spent the investment to protect your vehicle, and now it is time to protect your investment. From Snow Foam pre-washing essentials to pH neutral chemicals that are safe and enhances ceramic properties, to washing accessories that don't harm the coating or your paint.

Features:

Snow Foam

pH Neutral foaming concentrate
Gives an instant gloss shine
Essential for reducing swirl marks and micro-scratches

Purple

pH Neutral iron remover
Safe to use on paintwork

Shield Spray

pH neutral and biodegradable
Si02-based polymer
Increases paintwork gloss
Enhances ceramic coating
Instant beading and months of protection
Wet-applied
Spray-on, spray-off

Signature Spray Wax

Bubble-gum scented
Spray-on, spray-off
Leaves a smooth to touch finish

OR

Ceramic Detailer

Si02 infused high gloss ceramic-based spray and wipe
Leaves a smooth, hydrophobic finish
Dry applied

Includes: 

Snow Foam Lance
Snow Foam Detergent
500ml Purple
500ml Shield Spray / Ceramic Detailer
500ml Signature Spray Wax
Twister Towel
Snowcloud Soft Microfibre Wash Mitt
Features

Generates super thick foam
Adjustable Foam Sprayer Width
Adjustable Dial for water/detergent ratio
Ergonomic bottle design
Larger surface area for stability
Heavy-duty HDPE bottle material
What's In The Box?

Snow Foam Lance
Snow Foam Detergent
500ml Purple
500ml Shield Spray / Ceramic Detailer
500ml Signature Spray Wax
Twister Towel
Snowcloud Soft Microfibre Wash Mitt

Snow Foam Lance Includes

Snow Foam Lance head
Pressure washer adaptor of your choice + male to male adaptor
Suction tube
Installed 1.11mm (1200-1600psi) and included 1.25mm inlet (1600-5000psi)
Electroplated brass head
1L PET clear bottle
Weighted pick-up tube
2 Year Warranty
Adaptor Guide
Share
Product Details
Description

You have your paint ceramic coated, but do you have the tools to maintain it?


We've selected our best products into a ceramic-focused package to help you maintain and extend the effectiveness of your new ceramic coat. You have spent the investment to protect your vehicle, and now it is time to protect your investment. From Snow Foam pre-washing essentials to pH neutral chemicals that are safe and enhances ceramic properties, to washing accessories that don't harm the coating or your paint.

Features:

Snow Foam

pH Neutral foaming concentrate
Gives an instant gloss shine
Essential for reducing swirl marks and micro-scratches

Purple

pH Neutral iron remover
Safe to use on paintwork

Shield Spray

pH neutral and biodegradable
Si02-based polymer
Increases paintwork gloss
Enhances ceramic coating
Instant beading and months of protection
Wet-applied
Spray-on, spray-off

Signature Spray Wax

Bubble-gum scented
Spray-on, spray-off
Leaves a smooth to touch finish

OR

Ceramic Detailer

Si02 infused high gloss ceramic-based spray and wipe
Leaves a smooth, hydrophobic finish
Dry applied

Includes: 

Snow Foam Lance
Snow Foam Detergent
500ml Purple
500ml Shield Spray / Ceramic Detailer
500ml Signature Spray Wax
Twister Towel
Snowcloud Soft Microfibre Wash Mitt
Available Adaptors

Each Snow Foam Lance includes 1 adaptor for your pressure washer. The options include:

1/4 Inch Quick Connect
Karcher K
Karcher HD
Gerni (New)
Gerni (Old)
Ryobi (RPW/ AR Blue)
Ryobi (RACPW)
Bosch
Lavor
M22
Custom
Nilfisk / Alto Quick Release
Up to 20 Washes Per Litre of Detergent

100mL Snow Foam Detergent/Berry Thick is diluted with 900mL of water in the Snow Foam Lance. On a standard sedan, this will cover the car twice in foam.


Snow Foam + Bucket Wash
You may choose to do one initial foaming layer followed by a bucket wash giving you 20 total washes per 1L Detergent.

Double Snow Foam Wash
You may choose to do one initial foaming layer, rinse and apply a second foaming layer (as a contact wash), giving you a total of 10 washes per 1L Detergent.

This is to be used as a guide only. Results may vary due to multiple factors. Above is with the maximum foam setting.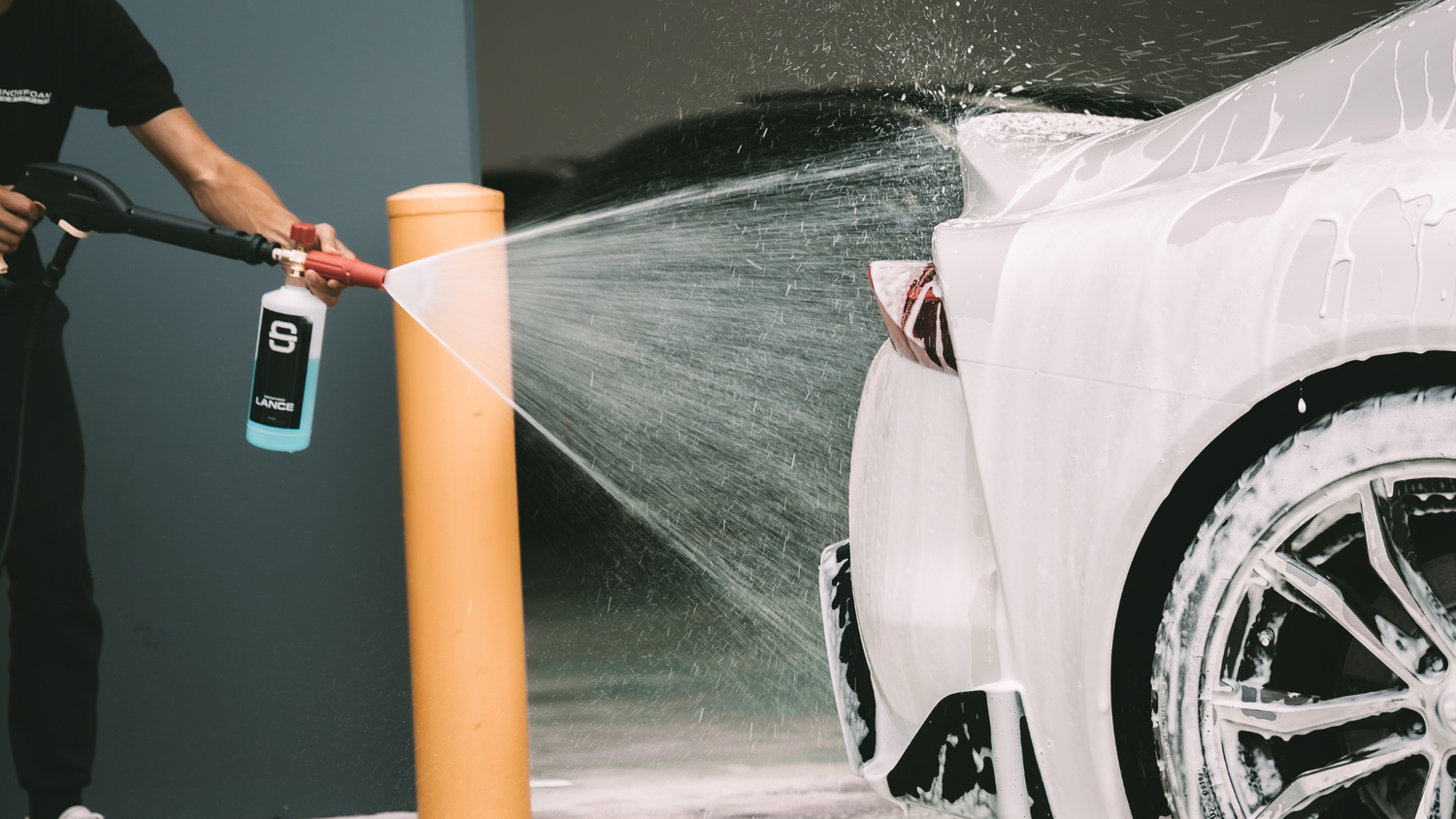 Connects Directly To Your Pressure Washer
Compatible with most popular pressure washers available on the Australian Market. Can't find your pressure washer on our list? Use our adaptor guide or contact us and we'll help you get foaming!
Lance Adaptor Guide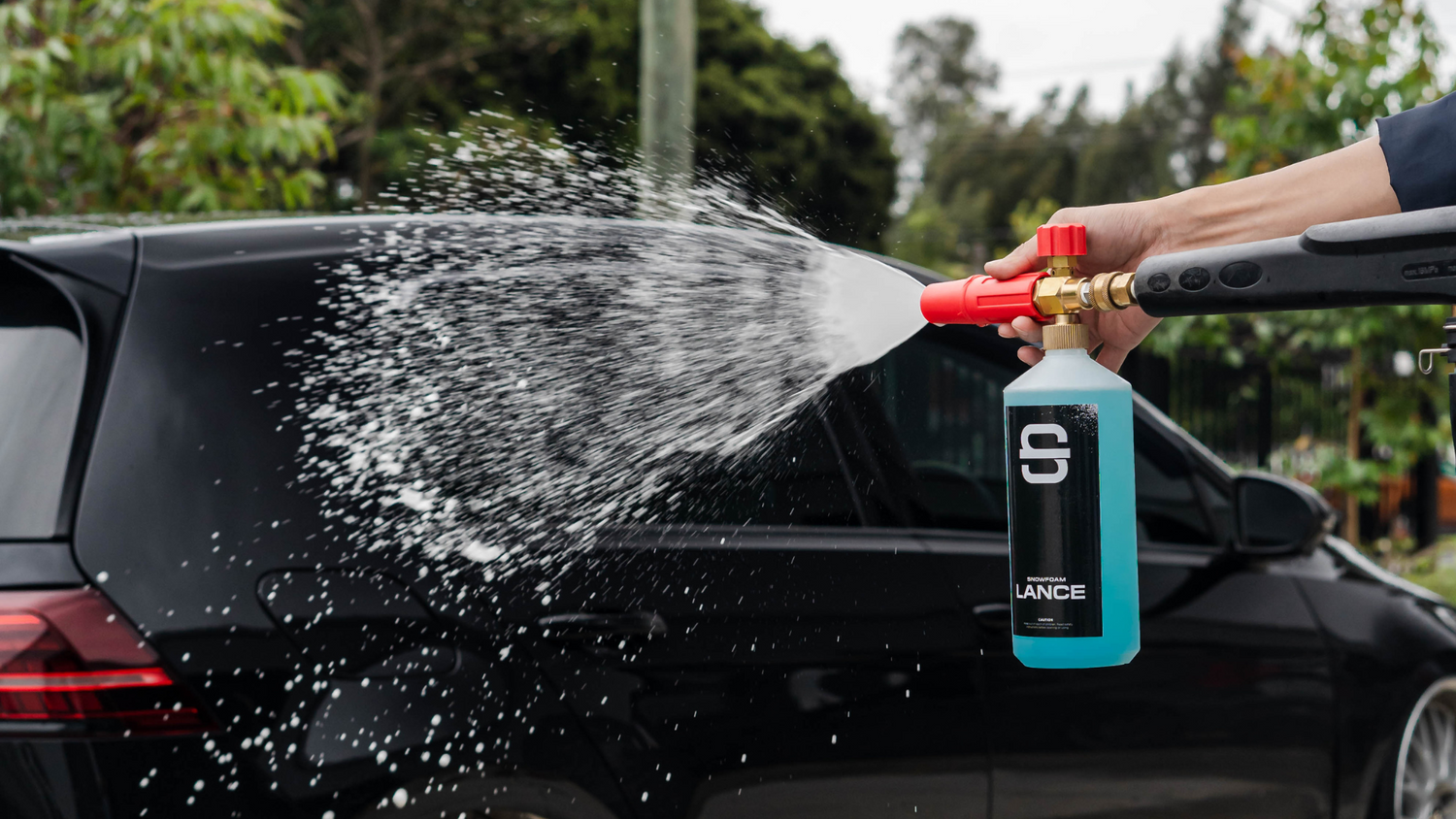 The Perfect Foam
We've extensively tested the Snow Foam Lances to ensure the highest quality brass, plastics, mesh filters and fittings were of high standard. The Snow Foam Lance has been a car enthusiast's favourite since 2013.
Not Just Another Wash
It's not just a car wash when you use a Snow Foam Lance. It's the care and dedication that comes with the perfect finish that your car deserves. Used by thousands of Aussies each weekend.
FAQs
Will It Fit My Pressure Washer?
Do I Still Scrub The Car?

The Snow Foam system of washing focuses on swirl-avoidance over contac-avoidance. We still scrub the car to dislodge stubborn dirt that the touchless pre-wash isn't able to remove. We do so with more confidence knowing a wash mitt isn't directly trying to forcefully wipe multiple layers of dirt like that of conventional washing methods.
How Do I Set It Up?

Simply use the PTFE tape provided and wrap the thread around the male-to-male adaptor 5 times around.

Then screw your adaptor provided onto this male-to-male adaptor then into the Snow Foam Lance.

Plug the tube into the Lance head and fill it with detergent and water.

Adjust the top dial toward negative (-) for thicker foam.
How Long Do I Leave Snow Foam On For?

Leave Snow Foam on for at least 5 minutes avoiding any sunlight if possible. You can leave it on for up to 10 minutes, ensuring no foam dries on your paint's surface.
Is There Warranty?

Shop with confidence knowing we have you fully supported with 2 years warrant on the Snow Foam Lance. We are experts in pressure washer and cleaning parts and understand things leak and break. Send us a message and we will sort your issue and replace or fix where needed for two years from purchase.